Enjoy our wine nation wide! We ship wine to all provinces (with the exception of Ontario). A minimum shipment is 6 bottles. You are welcome to mix and match within your pack!
Prices listed do not include taxes but do include a $0.20 bottling and recycling fee.
Shipping prices are as follows:
British Columbia: $36 + tax
Alberta: $39 + tax
Saskatchewan/Manitoba: $48 + tax
Quebec: $65 + tax
NB/NS/PEI: $65 + tax
NWT/Yukon: $85 + tax
Wine club members enjoy free shipping within B.C. and Alberta, and discounted shipping nation wide.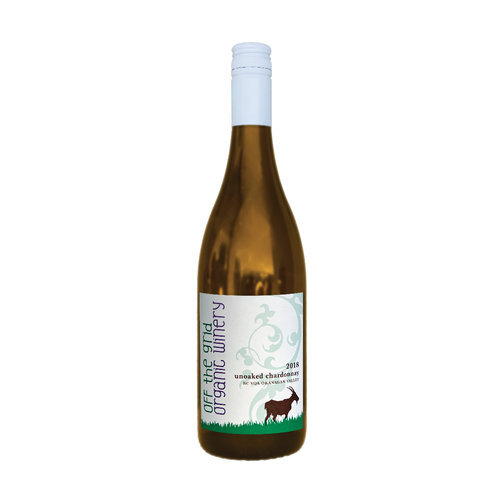 $26.00
When tasting this wine, you should find it dry with strong bursts of tropical fruit aromas and flavours. Pineapple both fresh and toasted are at the front of the nose, with mango and banana swirling around. Fresh acidity makes this a wonderful pairing for shellfish and rich and creamy dishes.
$30.00
Our very first oaked chardonnay. Barrel fermented and aged in premium French oak for 11 months, this Chardonnay has aromas of toasted coconut & pineapple. This wine shows juicy fruit as well as toasted and light buttery aromas.
$24.00
This Gewürztraminer showcases citrus notes on the nose of grapefruit and tangerine. On the palate it is well balanced with a light florality on the finish. Best paired with India and Thai food, or a fresh mango salad.
$24.00
This Pinot Gris shows green apple, pear, citrus zest and a light minerality. Pair this wine with all sorts of cheeses both rich and creamy. Summer salads with fruit and nuts, white meats and seafood.
$50.00
Scape Goat is our collectors' wine for 2018 harvest, this Orange wine was made following old-world winemaking techniques. Made once in the style and never to be made again, enjoy the story of this wine. Wild fermented, un-fined, and unfiltered, you will find a wonderful unique experience in this bottle!
SOLD OUT
2018 Pink Pinot Gris
$25.00
These Pinot Gris grapes were cold soaked for 4 days, giving it its unique colour. Notes of melon, candied berries, sour patch kids, and almond round out this unique Pinot Gris. Pairs best with chick flicks and potato chips.
$20.00
This light and fruity blend of Pinot Gris, Gewurztraminer, Riesling, and Chardonnay is easy sipping and laid back. With light fruit and minerality, this pairs with like minded food.
$30.00
This Riesling comes from our oldest and smallest plot of vineyard. This wine delivers bright notes of apple, lime, and apricot with a touch of slate. It's a high acidity makes it taste dry. Pair this wine with raw oysters, sharp cheese, or chicken satay.
$30.00
The label of this heritage is an original photo of the property these grapes are grown on in the 1950s. The original white farm house still stands now on our vineyard property. This wine spaced with warm tree fruits in the nose and ripe round fruit on the pallet. A delicious blend of sweetness and acidity make this a wonderful wine for any occasion.
2018 Whole Cluster Riesling
$26.00
This wine delivers full peaches, apricots, and honey on both the nose and the palate. It is incredibly juice and leaves you wanting more. Pair this wine with hot summer days, curried dishes, and BBQ'd peach salad.
$23.00
Our ever after rosé is a nod to all the brides and grooms who not only get married at OTG but who come and visit. From stagettes to bachelor parties and even engagements we are SO pumped to have this wine for cheers with. The name is inspired by the wine-makers favourite happily ever after movie "Ever After" the cinderella story starring Drew Barrymore. This wine tastes like candied cranberries, red cherries, white and black pepper and would pair well with appetizers, cheese and jelly, burgers and summer BBQ.
$35.00
This Zweigelt should be decanted for a minimum of 30 minutes to expose its maraschino and bing cherry notes. Caramel, tobacco and smoke round out this medium bodied light sipping wine. A wonderful pair for pizza, lighter meats and pork dishes.
$33.00
This merlot has aromas of plum, raspberry, and fig with hints of cocoa and brown sugar. Pair this when cooking with wild mushrooms or fresh herbs. Try this with a brie & apple stuffed pork tenderloin.